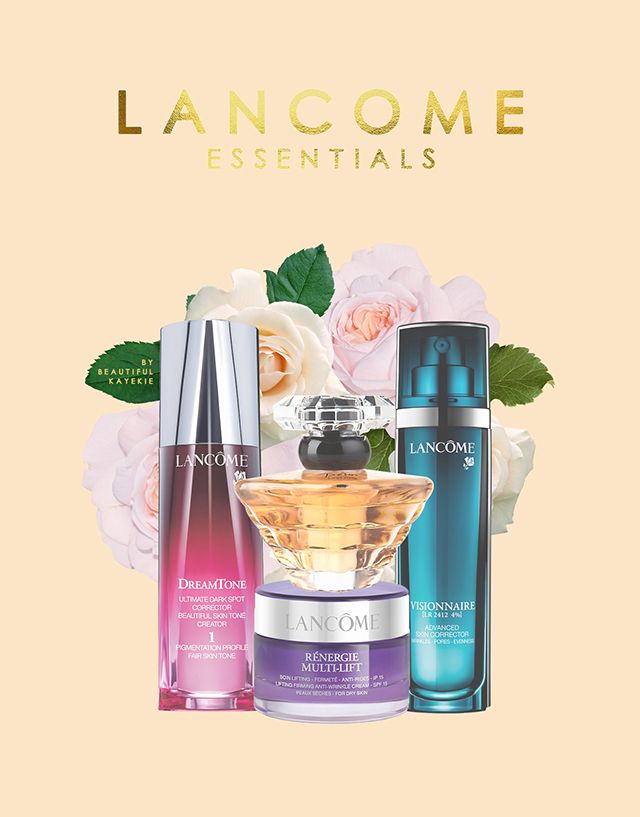 Welcome back, my skin care loves! 
I'm excited to be reviewing four of Lancôme's essentials, kindly provided by the lovely team at Activeskin, the online haven for all things beauty including Lancôme.

Visionnaire, DreamTone, and Renergie Multi-Lift; this is skin care you want to know. And Tresor Eau de Parfum? It just so happens to be a favourite of mine.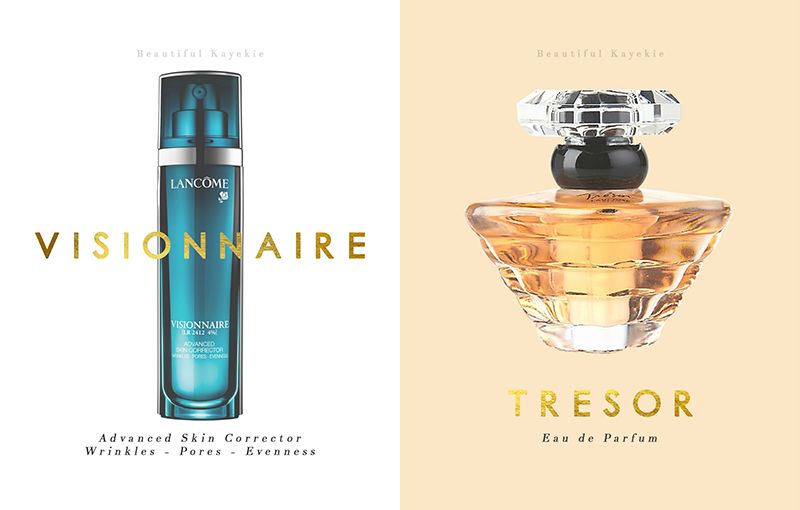 Lancôme Visionnaire
Visionnaire is what I like to call an all-rounder. According to Lancôme its a great option if your're looking to treat multiple things at once: wrinkles, texture, unevenness and pores. Visually, I immediately noticed positive results for pores and light smoothing. Longer term, deeper skin results are too early to tell, but things are looking up.
The scent of this serum is very light. Almost unnoticeable if you are not sensitive to product fragrance. It's pearl/shimmer consistency explains the instant skin refinishing result. But not to worry, there is positively no disco ball effect (I swear). It blends, unnoticeable. An important note: Visionnaire is definitely not to be used in place of a moisturiser, as you wont get the hydration levels you need. Think of Visionnaire as the first essential step before moisture.
I would recommend this to someone looking for a targeted one-product solution to all their problems. Absolutely no need to add layer upon layer of treatment serums with this baby.
Lancôme Tresor Eau de Parfum

Tresor, meaning treasure in French, is a scent that I love. From my first purchase in the 90's, its bold fragrance has stayed with me. It's what I would call, 'anything but shy'. Something for that special occasion. It's classic notes remind me of the cult must-haves like Chanel; not modern, but effortlessly timeless.
Top Notes: Apricot Blossom, Rose
Heart Notes: Lilac, Iris, Peach
Base Notes: Amber, Sandalwood, Musk, Vanilla
(From: Lancôme)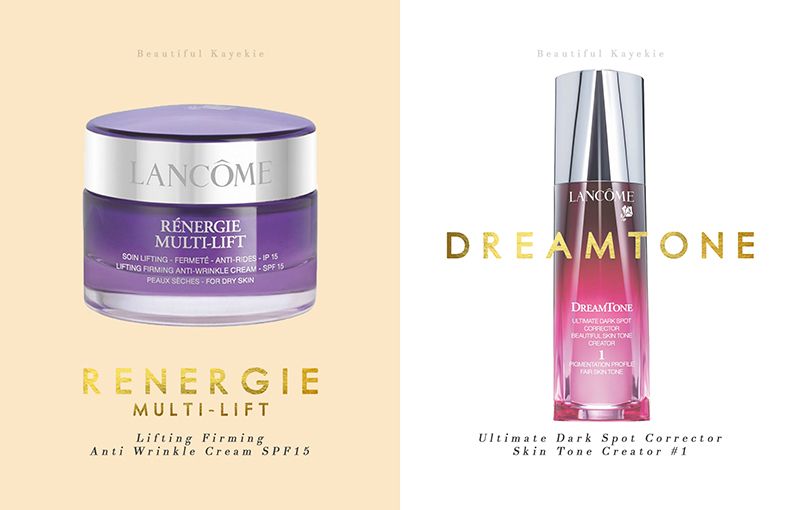 Lancôme Renergie Multi-Lift
Renergie Multi-Lift ticks all the boxes for my aging skin. Did I just say that? Ah c'est la vie.
This cream boasts lifting, firming, tightening and SPF 15. I haven't trialed it long enough to be sure it delivers perfectly lifted skin, but what I do love is its deep hydration and non-greasy formula. It absorbs quickly and leaves your skin silky to the touch. Heaven. This is a heavier cream, really best for lack-luster skin.
This formula has a firm texture within the jar, and comes with a definitive scent. You're either going to love it or loath the fragrance. I'm partial to a little scent to pick-me-up. I found night-time is the optimal setting for this cream, despite its SPF ingredient (meaning it's a day cream). For the best use under makeup, a smoothing primer does the trick to blend your bases seamlessly.
I recommend this to those looking for more serious moisture and ageing repair. It delivers, and who wouldn't like a little firming and extras thrown in as well?
Lancôme DreamTone
Spots, uneven skin-tone, and imperfections. These are the bane of my existence. This is exactly the reason why I perked up at the chance to trial DreamTone. It promises to tackle these problems for you. Thoughtful, right? So… I have good news and not-so-good news.
First I'll start with the not-so-good. The bottom line is this: if you're looking for a salon-quality dark spot treatment (think space-lasers), this might not be for you. Medium, long-term results for light pigmentation? Yes. Absolutely. Which quickly brings me to the good news. If you're looking for fresh, bright, skin; line up and get in quick.
I can happily confirm a smoother, brighter, fresher complexion. Sleep in a bottle. The fragrance is light and fresh. Something I also enjoy. In terms of consistency, it would be best described as a watery serum. DreamTone is hydrating and smooth.
I didn't experience any breakouts either (with my regular acne treatment). And that always scores bonus points in my book. Read more about my adult acne here.
*Disclosure: this is a sponsored post. All content within this post is original and my honest opinion, cause I'm kinda awesome like that.